Wouldn't it be great if you could wave a magic wand and get clients to  review your business? Maybe not, because if they're unhappy they'll leave negative reviews.  What if you could make sure that only happy clients review you publicly, and unhappy clients criticize you privately?  Fortunately, there are now services out there that will help you with review and feedback management.  There's probably one out there for you and in your budget, and we've tested a bunch.
Starting With the Basics: Getting Feedback
Most of these services start with a simple question:  are you happy with the service you received?  Check the bottom of any Square receipt or help desk ticket.  It might be a number scale, stars, faces, or just a thumbs up or thumbs down.
It isn't a complicated survey with a bunch of questions.  It's about a gut reaction if your client was satisfied and would recommend you to others.  If they wouldn't recommend you, you'd want to know that. This question is sometimes called a Net Promoter Score.  That's a specialized system for gathering and analyzing the results. For computer repair businesses that don't see hundreds or thousands of customers a day across the globe, we just want to know if our clients are happy and would recommend us.
Like many things in your business, you might have wanted to do this yourself but didn't have the time or skill.  That's where services come in;  automating to save you time.
Review Criteria
I researched these services starting with the popular review site G2Crowd.  I also asked other computer repair business owners whom they used.  Many of these services are designed for large international businesses.  I focused on services that charge less than $100 a month.  Those services that charge more are usually focused on larger businesses.  They may aggregate reviews from specialized industry focused sites (especially food service).  Other services that charge a premium give you a specialized account manager that walks you through the professional and technical issues related to online services.  Their target market is non-technical people like medical professionals or attorneys.  My goal is to find those services that are most likely to meet the average reader's needs here at Technibble.  That narrowed it down to about six.
Each of these services has a review funnel that makes sure negative feedback is directed towards you and positive feedback is directed towards online review sites.
Review Methodology and Roundup
I tested each of these services for about a month.  Not all of them give that long of a free trial, but all were willing to accommodate me based on my need for researching this article. Beyond an extension of the review periods, I received no special assistance from these companies.  Each one offered me a personalized demo so I could see the features.  Everyone was great in answering my questions, especially when I got a bit confused between the features different services offered. I disabled the follow-up software in my CRM and sent feedback requests randomly through each platform. That resulted in about 50 requests divided up between the platforms.  I then did some follow up with clients I hadn't heard from in over a year.    Not all platforms easily supported that option, so I note it in the review.
Unless noted in the review, most of the platforms have the following common characteristics
Customize review requests with the client's name via email or SMS
Tracking of open, click throughs on review requests
Follow-up reminders to clients to leave reviews on the places you suggest
Uploading of existing client databases
Push reviews to your website or social media feed
Collate reviews from other sites and allow you to respond within the platform
HTML link to put a review request into other platforms or email signatures
These services have some clear differences, so the odds are you'll be able to find the right one for your business.
NiceJob.co:  Simplicity and Stories
Trial Period:  30 Days
Monthly cost:  $45 lite/ $75 Pro
Key features:  effortless, pictures, iOS app
Details
If Apple made a review funnel app, this would be it.  NiceJob has the least number of options of any of the platforms I reviewed.  They leverage their user base to figure out which wording and options work best.  For the feedback question, your only option is "Would you recommend us to a friend?" with a green yes or a red no as the choice for your client.  You don't need to struggle with the wording since it's hard-coded in the system. Additionally, you can show pictures to the client as part of the request.
During my demo, I couldn't see the use of pictures as a focus of a feedback request.  The target market for NiceJob seems to be the home improvement industry.  See a gorgeous landscaped yard or a freshly painted home?  What can we really show with computer repair?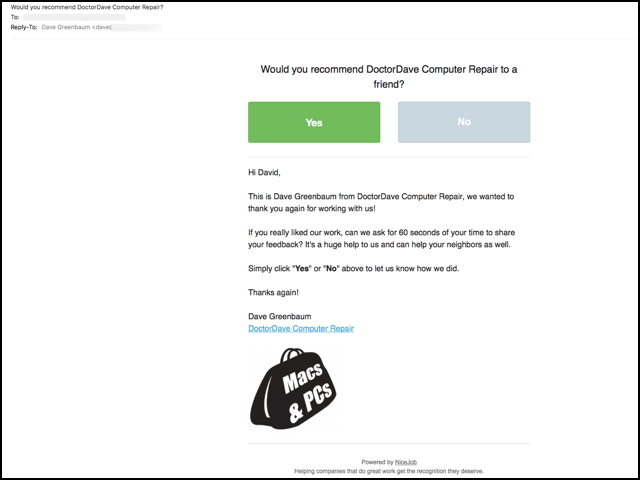 When I started using this service I generated ideas like a broken laptop screen before and after. I could show a clean virus scan or an optimized benchmark.  Using pictures can jog the client's memory about the repair.
With the Pro plan, you get Zapier integration to automatically push out review requests.  One killer feature here is the iPhone app.  You can take a picture while onsite and make the review request from within the platform. Unlike other platforms, SMS is included and unlimited in all plans.
Conclusion
If you want to get started without having to think about too many options, NiceJob is the place to start. If you're doing hardware repairs, especially screens, the picture focus is likely to give you great results.
Trial Period:  14 days
Monthly Cost: $49
Key Features: training and content, review aggregation
Details
ReviewTrackers excels in content marketing. I'm a huge fan of their blog and Twitter feed.  Even if you don't pick them for your business, I'd still suggest subscribing to their news and Twitter feeds.  The advice they give is spot on and applicable to any review platform. They even have a free online academy for training in dealing with client reviews.
As the name suggests, the key focus of ReviewTrackers is gathering reviews from across the web for your business. They have an iPhone app that lets you track this while mobile.  You can't send clients to your review funnel from the iPhone app though;  just track and respond to reviews.  For an extra fee, they'll find your top competitor and aggregate their online reviews.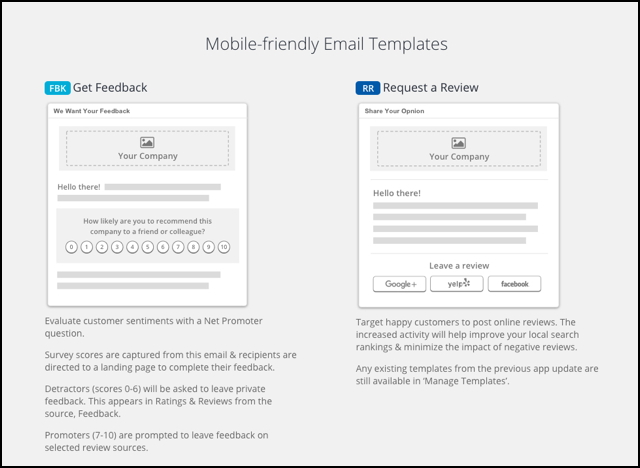 ReviewTrackers also focuses on simplicity. The platform lets you send out two types of request:  feedback requests and review requests.  Feedback requests match what the other platforms offer.  It asks the client to review your business on a scale of 1 to 10.   If you already know a client will give you a good review, you can use the review request form and skip the feedback request.
Unlike other services I reviewed, at the time of this writing ReviewTrackers doesn't support mail merge fields like customer name in the review or feedback request.  They also don't support sending requests via SMS, following up on requests (drip campaign), or pushing content to your website. All of these features are on their roadmap and I was told (but haven't tested) new SMS support.
Conclusion
ReviewTrackers is best for established businesses that want to get a pulse on their client base.  The lack of customization makes it easy to send out a review or feedback blast without many options to hold you back.  If you get an unsolicited positive review from a client, you can then send them the Review Tracker review request and skip over the feedback request.  The dashboard of reviews and iPhone app makes it easy to track your reviews if you're listed on a ton of platforms.
Trial Period:  none (30 day money-back guarantee)
Monthly Cost:  $39.95
Features: focus on feedback, surveys
Details
Like Review Trackers, Get Five Stars splits out the feedback request and review request.  In this system, you send out an email requesting feedback and give the client that same ten point Net Promoter Score scale.
Although you can't customize the feedback request scale or wording, everything else about the email can be customized.  You can request an explanation to their Net Promoter Score.  I liked this feature because I'm equally concerned about client satisfaction and feedback as well as reviews.  Not all clients feel comfortable leaving online reviews, but might give you private detailed feedback.  If you'd like, the system lets you add other questions with that same ten point scale.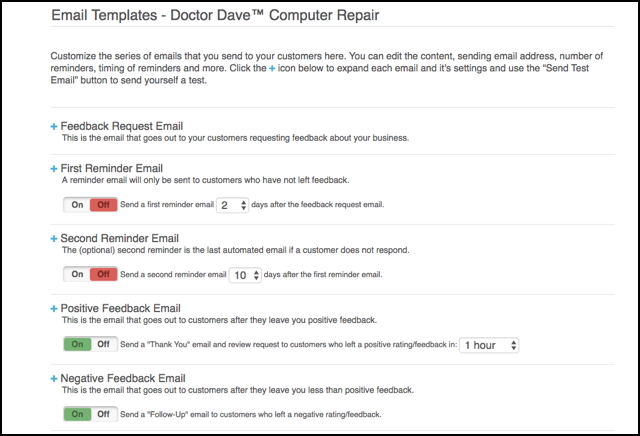 After the client gives their feedback and their numeric rating, Get Five Stars generates a second email.  Clients who give you a high score are asked to post those online.  Lower scoring clients are asked to provide private feedback.  You can set the score which determines if feedback is worth requesting an online review (I set mine to 8 out of 10).  If that two-step process doesn't work for you, Get Five Stars lets you just ask for an online review or just a Net Promoter Score.
The basic plan includes Zapier integration, but not SMS requests. One unique feature with Get Five Stars is the ability to add a job ID, custom ID or tags to the client.  In the computer repair business, we tend to focus on ticket numbers.  I put the ticket number in the job ID and in the tag the tech that worked on the job.  When we got feedback, especially negative, I could quickly pull up the ticket number.
Conclusion
Get Five Stars is the ideal platform for getting feedback and polling your customers. The online review requests are secondary and optional.  If your primary focus is to know what your customers think of you and why, this is the choice for you.
Optimum Feedback:  International Focus, Custom Campaigns
Trial Period:  14 days
Monthly Cost: $89.00
Features: world-friendly, a/b testing
Details
While all the other review sites are US based, Optimum is based in the UK. For international computer repair business owners, having support in your local time zone might be the killer feature.  They also know the nuances of international law when it comes to sending emails and SMS.
Similar to Nice Job, Optimum gives your clients two choices: positive experience or negative experience.  Depending on the client's choice, the platform points them towards posting an online review or giving direct feedback to the business.
Review requests can be sent whenever clients are added to the system.  They also offer a "one-off" drip campaign.  That lets you upload a bunch of client emails and send a focused feedback request.  That request might be for clients you haven't seen in a year or so. The one-offs let you send out a limited set of emails per day.  That schedule prevents you being seen as a spammer.  As a business owner, it lets you spread your reviews and responses over time.

If you're doing a regular feedback request campaign, Optimum lets you schedule the email request in advance.  For computer repair business owners, that delayed send lets you create traditional follow-up campaigns after 14 days, 30 days, or whatever you pick.  It's even smart enough to send only during "sociable" hours.  Sending during those hours means clients are more likely to read those messages.
Optimum Feedback lets you set up multiple campaigns and responses within the same company. The ability to keep multiple templates lets you do A/B style testing.  Most other systems only let you have one active template; when you want a new one, you'll need to erase the old one.
Conclusion
If you're outside the US, Optimum seems like the obvious choice.  They understand the needs of international users. You'll also get the ability to try multiple campaigns and feedback programs while switching among them on the fly.
Grade.US:  All the Customizations
Trial Period:  30 days
Monthly Cost: $70/five locations
Features: just about everything you can imagine
My first thought when seeing Grade.us was a dizzying array of features.  This system truly has it all.  I was a bit overwhelmed.
Details
In grade.us, you get to pick the scale clients will grade you on.  In their gallery they give you not just faces but thumbs and stars and even hearts.  When a client picks an option, the landing pages support full HTML so you can put what you want in there.  It even supports custom CSS and headers.
I love the fact that you can add an email signature snippet that directs the client to give immediate feedback at the bottom of your emails or invoices.  That's like other ticketing systems, but here you have the bonus of requesting a positive online review for happy interactions.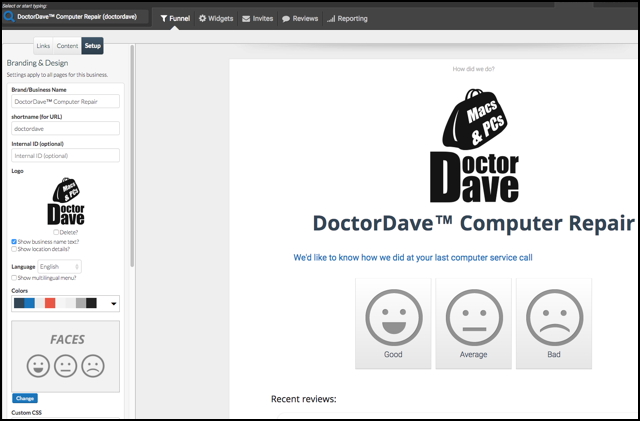 When you add clients, you choose how often review invites go out.  The reviews can be sent out manually, upon request or streamed out over time.  Clients can be tagged in the system so you can track the tech or the ticket number.
Besides those email invites, Grade.US lets you order printed business cards with QR codes as a leave-behind with clients. It even supports a kiosk mode for immediate feedback at your business location.  If you get reviews from other sources (I get them from Square receipts), Grade.US lets you add them to the system.
Conclusion
If you want the maximum amount of control, Grade.US is the way to go.  You control every aspect of the platform. Grade.us is for the person who likes to tinker and go into the command line and registry for everything!
RevuKangaroo:  Employee-Centric Reviews
Trial Period:  30 day trial for $7.00
Monthly Cost:  $139/10 employees
Features: review your staff
RevuKangaroo takes an interesting approach to reviews.  They host everything on your website and they keep you in control.  The landing pages and requests come from your domain.  That makes it transparent to your client.  I couldn't test it directly because of all the web changes I would need to make.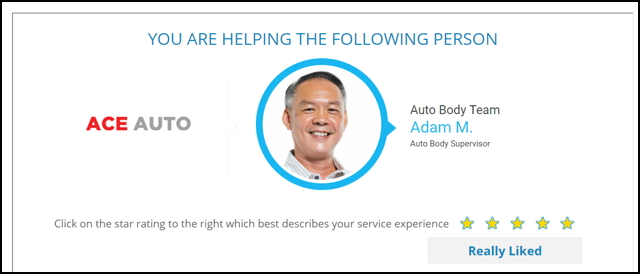 Instead of focusing your business, they request a review of an interaction with an employee.  For small shops, this probably isn't a feature.  If you've got a team out in the field though, this could be essential.  It's a great way of tracking employee interactions along with getting reviews for your business.
White Label:  Buying and Reselling Services
Grade.us is a leader in this area.  It lets you use up to five locations for the base price. They suggest that you can help other businesses with social media or review sites.  You can even split that five-location account among other computer repair business owners, giving them each a separate login.  They suggest for smaller one-location companies to go through one of their resellers.
If you get the bug to start selling review monitoring and funnelling to your clients, you can customize that service with your brand, a.k.a white labelling.  All the services provide enterprise/agency pricing.  They'll have some initial startup costs to give you that custom branding though.
For larger shops, especially managed service providers, this might be a nice add-on service to create value.  Some shops already do websites, so this is a logical extension of their services.
Could You DIY and Save Money?
Sure.  That's what I did up until recently.  I'd send a quick survey with Google Forms and ask how we did.  If the client was happy, we'd respond with a review request.  If they weren't happy, we'd respond and try to resolve the issue.  Either way, we captured the client's intent before asking for an online review.  Services like Survicate and Promoter.io are some automated alternatives to Google Forms and Survey Monkey.
The major online services like Google, Yelp and Facebook have apps to notify you of online reviews and let you respond.  That's the way I did it until recently. I also recommend signing up with Perch.  It notifies you of reviews and social media posts of your competitor, similar to the functions Review Trackers has.
Which One I Decided On and Why
When I sent out my review requests, clients seem to interact the most with NiceJob. The iPhone app and limited options made it easy.  NiceJob, though, lacked detailed feedback.  People said we did a great job, but I want to know the nuances of the interaction. Since our work is out in the field and lacks much visual appeal, I think I was missing out a major aspect there
Grade.us was awesome, but the feature overload got to me a bit.  I already know some white-label resellers who used it, so I could save some money.  I might decide later to switch back to them.
ReviewTrackers just didn't offer enough features and support for my needs. If they implement all the features they promise I'd consider it again. I'm still going to read their content and implement their tips.
Optimum Feedback had the right mix of features without overloading me.  If I had more clients and wanted to do detailed feedback campaigns, I'd pick them.  As it stands, I can't take advantage of all it offers.
I'm sticking with Get Five Stars because I like the detailed feedback. I caught a detailed negative review from a client, while the other times a client just clicked the dissatisfied and provided no detail.  All things being equal I want feedback about the experience rather than online reviews.  I can always ask for a review later. The ticket tracking and Zapier integration pushed me over the edge.
Which Do You Use or Like?
Let us know in the comments if you have experience with any of these or which ones interest you.  If you have any questions about the platforms or my experience with them feel free to ask.
This IT news article was sourced from TechNibble. All content and images in this article are copyright TechNibble.